Suppliers,
BuyRiteDental discreetly expands your market access. Here you can see what Dental Professionals across all of North America want to buy and now you can sell to them.
After registering, you will be presented with all the active Buyer posts (Active Posts Tab). You can Search and Sort by Posting Category. You will also be notified of all new posts containing categories that you supply (which you selected upon registration and can update using My Account tab).
1. To bid, choose the Select Bid button on the post of interest. You will be presented with this screen: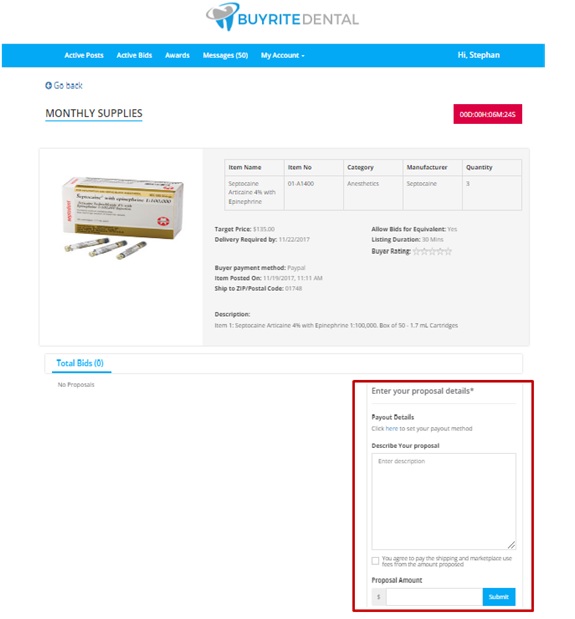 Enter your proposal and payment details. Bidding requires you to enter where the Buyer will send funds should your bid be selected. If by paypal, you will be required to enter a paypal address. If Credit or Debit Card, you will be asked to enter information needed for the Buyers credit card provider to route the funds to your bank account.
If you bid at or below the Target Price, you are awarded the business instantly. Since Target Price is an optional entry for the Buyer, not all posts will have one.
For posts that don't have a Target Price or for bids that don't trigger the Target Price auto award, the buyer at any time during or shortly after the conclusion of the auction can make an award. The Buyer can award the business to any bidder whom they decide provides the best proposal.
The price you bid should be inclusive of all costs including shipping, taxes, and the BuyRiteDental.com marketplace use and credit card processing fees totaling 5.9% (of the total bid price). You only pay these fees if you are the winning supplier. The bid price you enter is the amount the buyer will pay for delivery of the goods to their destination on or before the Delivery Required by date shown in the posting.
All bidders will see the current lowest bid price. Only the buyer will be able to see your proposal details.
Once a bid is submitted, the post will transition to your Active Bids tab. Here you can update your bid and watch it's status. You will also receive notifications via email and the BuyRiteDental.com message center.
When a Buyer awards you business, it will appear in your Awards tab. When the Buyer pays, the post status will change from awarded to Paid. Now it's time to ship, and complete the transaction by entering the details requested in the post (all from this Awards tab).
Please leave feedback for each selling transaction. Feedback is important to all BuyRiteDental.com users and you may also find it helpful in future bids.